Chargers slip past the Raiders in Oakland...
In an ugly game that saw the Chargers fumble the ball 7 times and lose 6 of them....rumors are circulating that that there may have been a foreign substance on the balls that caused them to be more slippery than usual.
When GM Al Davis was asked about it....he commented, "The Raiders had their fair share of fumbles in the game as well, but if a situation arises that can be taken advantage of, well....it's all about trying to gain a victory."
QB Ken Stabler suffered a foot injury and is questionable for the Jacksonville game.
We caught up with Stabler (drinking a cold can of Lucky lager) as he was exiting the facility.
Stabler, are you concerned about your offensive line after they gave up 15 sacks in this last game?
"No, those guys up front are playing their asses off....we'll figure it out"
But....that's 36 sacks this year already, you must be a little concerned about the guys in front of you?
"Ya'll need to back off those comments, it's a team game, I could get rid of the ball a bit quicker myself"
But right tackle Fletcher has allowed 8 sacks himself....what do you think of....
(At this point Stabler threw his beer on the ground and let loose with a litany of expletives that are not suitable for print....we'll just print the picture)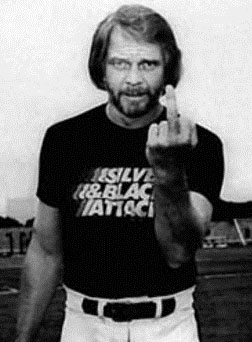 Last edited at 8/24/2017 12:34 pm